Hands Free Wine Glass Holder
Wine Glass or Wine Glass Holder - Tie One On Today!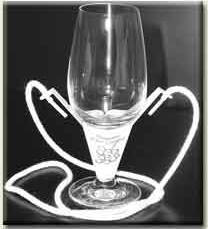 Give your wine festival guests a wine accessory to take home or to keep them coming back. Choose either the Freehand Wine Glass Holder or The Freehand Wine Glass. Both products provide a great way to add flair and convenience to any wine event or the perfect upscale promotional item for your logo.
Our hands-free wine glass holder makes a perfect promotional item for your vineyard, winery or wine festival. Give your clients a piece of Wine Schwag they will keep for years! This handy wine glass holder on a lanyard will allow your guests to enjoy their wine outdoors without wine spills, broken glass or even tables! Great for wine tastings on the river or on sports fields where glass is forbidden!
These custom hands-free Wine Glass Holders securely hold the wine glass upright and in place avoiding spills. You supply the stemware (for shatterproof stemware see below) and the Freehand Wine Glass Holder snaps right on. The adjustable neck cord allows both hands to be free to greet friends, sample food or take wine tasting notes. Caterers love our wine glass holders because they reduce spills and broken glass, for easier cleanup after their wedding or other event.
These durable plastic, stemware holders are SO handy that people will keep them for years re-using them at picnics and anywhere else they are enjoying wine tasting outdoors. Now that is great wine swag! You can have us place your logo on each wine glass holder or order them unprinted to save money and time.
Our new 25 & 100 item packages are perfect for caterers looking for ideas for the next outdoor wedding or dinner party. If your party serves wine, surprise your guest with these handy wine accessories.
A Wine Glass Holder

Frees Your Hands for the Buffet
Is Easy to Use
Keeps Wine Glass Safe, Prevents Breakage.
High Quality Color Print Customization Available
Fits on Any Stemware
Use it at Picnics & BBQ's
Comparable wine glass necklaces seen on the Rachael Ray Show for $10 each!

White Holders Now Available in Singles Just $4.00 ea.
(US Only. We do not offer overseas shipping)

Free US Shipping
No Minimum!
Normally ships within 24 hours

Want some with
Your Logo?

Freehand Wine Glass Holders

Assorted Colors

Great marketing for your winery

Keep Festival Sponsors Coming Back

Fits Any Wine Glass

Perfect for Outdoor Festivals

Small lots available!

Free Shipping on these wine necklaces!

Save Money Buy in Bulk!
Email us for wholesale prices

Custom and Unprinted Holders Now Available!


Wine Glass Holders for Vineyard Events!

Send us your logo and purchase timeframe and we will send you a custom quote!

---

The Freehand Wine Glass - The Unbreakable Wine Glass With a Cord!

Enjoy your wine wherever you go with the new Freehand wine glass, the shatterproof Wine Glass With a Cord!

Great For:

Romantic Picnics
Outdoor Events
Rivers, Lakes & Parks
Camping
Makes a Great Gift!

Our wine glasses are made from virtually unbreakable, high quality Polycarbonate (these are not the thin, flimsy plastic glasses found in stores). The cord is built right in!

Currently out of stock

Email for availability
sales@vinebydesign.com

Box Includes:
2 unbreakable wine glasses fitted with adjustable cords as shown

Winery and Wine Event
Promotional Merchandise - Wine Schwag

These high quality winery promotional items are used at many corporate functions and Wine & Food festivals throughout The United States, New Zealand, Australia, the United Kingdom, and France. They will look fantastic with your business logo printed in full color (bulk purchases only).

They offer an exciting wine advertising opportunity for festival sponsors to print a name or logo onto the front or sides in one, two, or three colors.

I have sold and given away thousands of these wine holders & glasses and I can tell you they DO NOT get thrown away. Wine lovers will keep this unique wine accessory and show it off to friends.

Wine glasses and holders, customized with your logo and web address make the perfect viral marketing tool for anyone in the wine industry.

These products are 'Walking Billboards' that offer long-lasting advertising impact.

Place your winefest sponsor's logo on the front; the marketing response your wine festival sponsors get, will keep them participating in events for years.